SITERWELL ELECTRONICS CO.,LIMITED
---
Siterwell is committed to a path of independent innovation that focuses on intelligent security protection of life and property by utilizing and an advanced smart security ecosystem technology.
As a professional manufacture of Smart Security Ecosystem, Siterwell focus on creating various types of sensor alarm, IOT industry application security solutions and smart home solutions.
Siterwell has developed international world-class R&D team and an international leading research center led by Isaac who for over 40 years has held leading roles in research standards development design and testing in the American fire and security alarm industry.
The laboratory has successively completed the management system certification of TUV in Germany and China's CNAs ISO17025. Through extensive cooperative testing utilizing fire detector "gold samples" the laboratory has established a massive correlation database with UL, VDS, TUV, ITS, ETL, BSI and Shenyang Fire Protection Institute in China.
Siterwell's establishment date
The total building area currently owned by the enterprise
Annual production capacity of intelligent security products
Business
---
R&D
Design
Produce
Sale
Service
After Sales
History
---
2022
Received the "Top 50 Industrial Enterprises", "North Bank Science and Technology Innovation Award", and "Jiangbei District People's Government Quality Award" issued by the Jiangbei District People's Government
2021
Recognized as a provincial-level enterprise research institute;
Received the Ningbo Jiangbei District Mayor Quality Award;
Approved to establish a postdoctoral workstation in Zhejiang Province;
Won the "Dingzhi Award • 2021 Smart Home Innovation Product";
Passed the certification of "Made in Zhejiang" and was awarded the title of "Quality Standard" Excellent Enterprise;
Selected in the "2021 China Brand Day Promotion Catalogue";
2020
Received recognition and cooperation from numerous top 500 companies both domestically and internationally
Won the German iF Design Award;
Awarded the IDEA Design Award in the United States;
At the China Fire Safety Industry Conference, Setwell won two major awards.
2019
Enterprises in China that have obtained UL's eighth new standard certification for smoke sensing products;
The Setwell Experimental Center has passed TUV CE-CPR certification and licensing;
Awarded the International Intellectual Property Advantage Enterprise Assessment;
The company's products include the top three in the annual evaluation of ETM, a well-known German magazine.
2018
High market share of domestic smoke alarm devices;
Rated as a single line cultivation enterprise in the manufacturing industry by the Ministry of Industry and Information Technology
2017
Relocate to a new factory area of 56000 square meters.
The German authoritative testing agency STIWA ranks first in testing.
2016
Launch the domestic market, establish 7 major offices,
LJD and Tmall flagship stores were launched, and the "Zixun" online brand appeared;
2015
Achieve operating revenue exceeding RMB 300 million;
Obtained the first UL carbon monoxide product certification in China.
2014
Received the title of "2013 Ningbo Science and Technology Innovation Award";
Obtaining LPC, ITS, NF, VDS and other certificates is the first company to obtain these four authoritative certificates.
2013
Establishing a product reliability testing laboratory has greatly improved product quality;
Rated as a "high-tech enterprise".
2012
Take the lead in obtaining the VDS certificate and increase the market share of smoke alarms in Germany.
2011
The relocation of the enterprise has increased its land area from 3000 square meters to 12000 square meters;
First to pass LPCB certification and officially open the UK Smoke market.
2010
Culture
---
Mission
Wisdom lies in safety and health
---
Vision
The guide of intelligent alarms and the innovator of the secure Internet of Things!
---
Values
Passionate, striving, innovative, win-win, and willing to share
---
Spirit
Write life through struggle, and reflect value through performance!
---
Honor
---
Over the years, Siterwell has been awarded the titles of "High tech Enterprise", "Manufacturing Single Cultivated Enterprise"
The company's comprehensive strength is at the forefront of the industry, with awards such as "Zhejiang Manufacturing Product Label Certification".
Taking the lead in achieving full product certification coverage in the same industry in China
Only enterprises in mainland China that have obtained UL certification for smoke and CO alarms (in the United States) and Activefire certification (in Australia) in the 2014 new standard;
The first enterprise in China to obtain composite machine certificates that comply with EN14604 and EN50291 standards;
The first enterprise in China to obtain VDS certification for smoke sensing magnetic strip products;
The first enterprise in China to obtain an AC thermal certificate that meets the BS5446-2 standard;
The world's first smoke alarm company to obtain UL new standards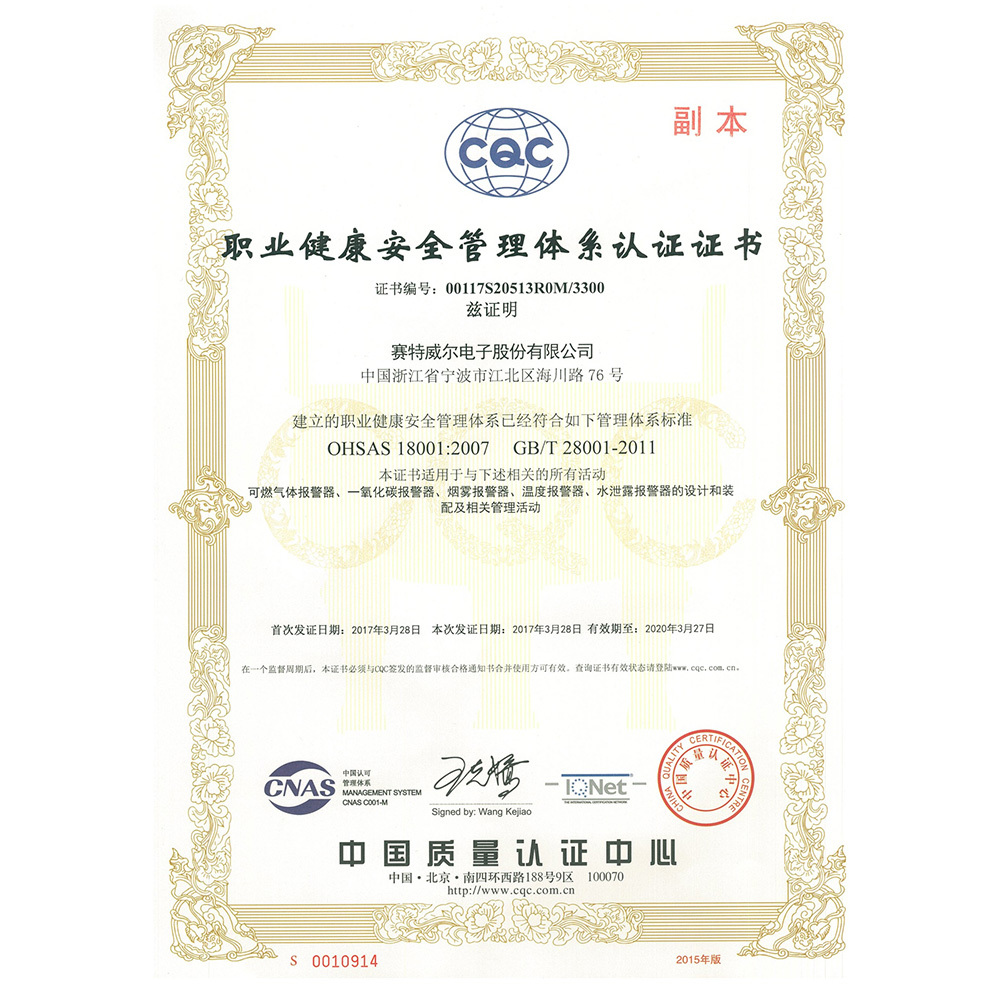 Occupational Health and Safety Management System Certification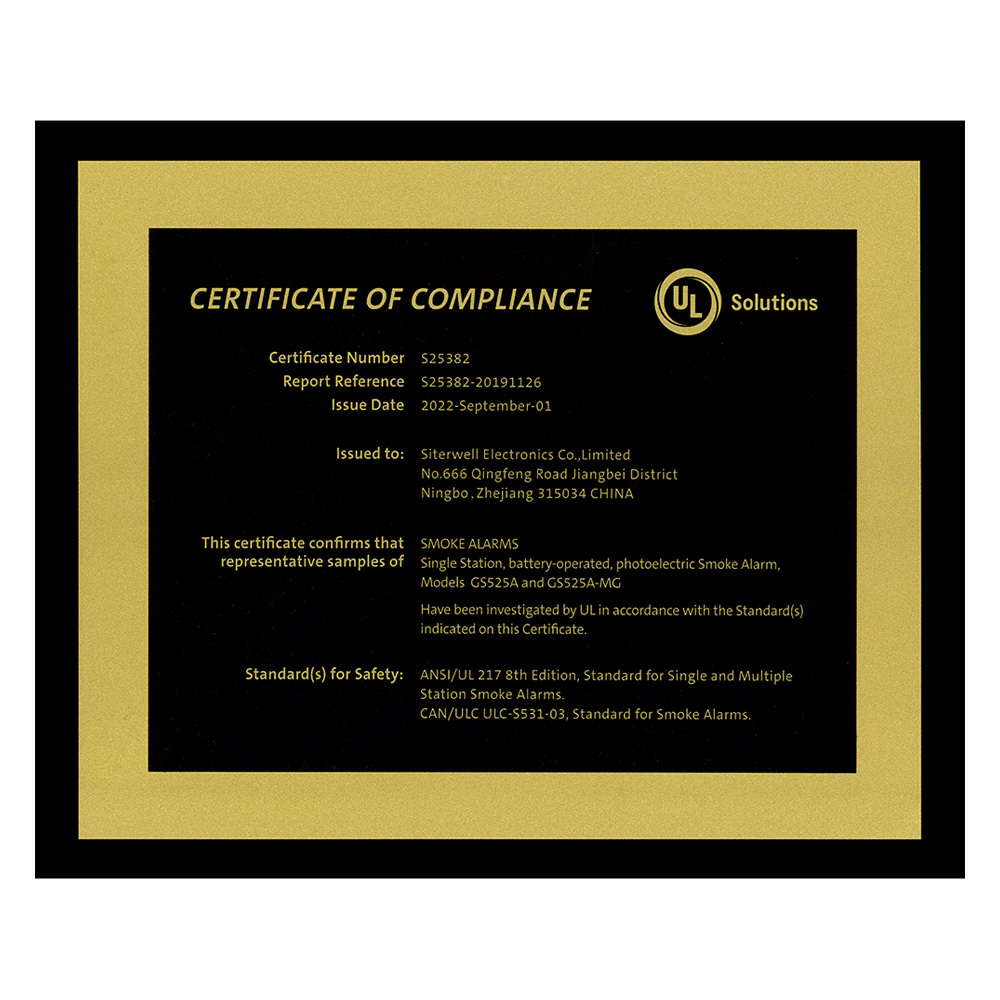 US UL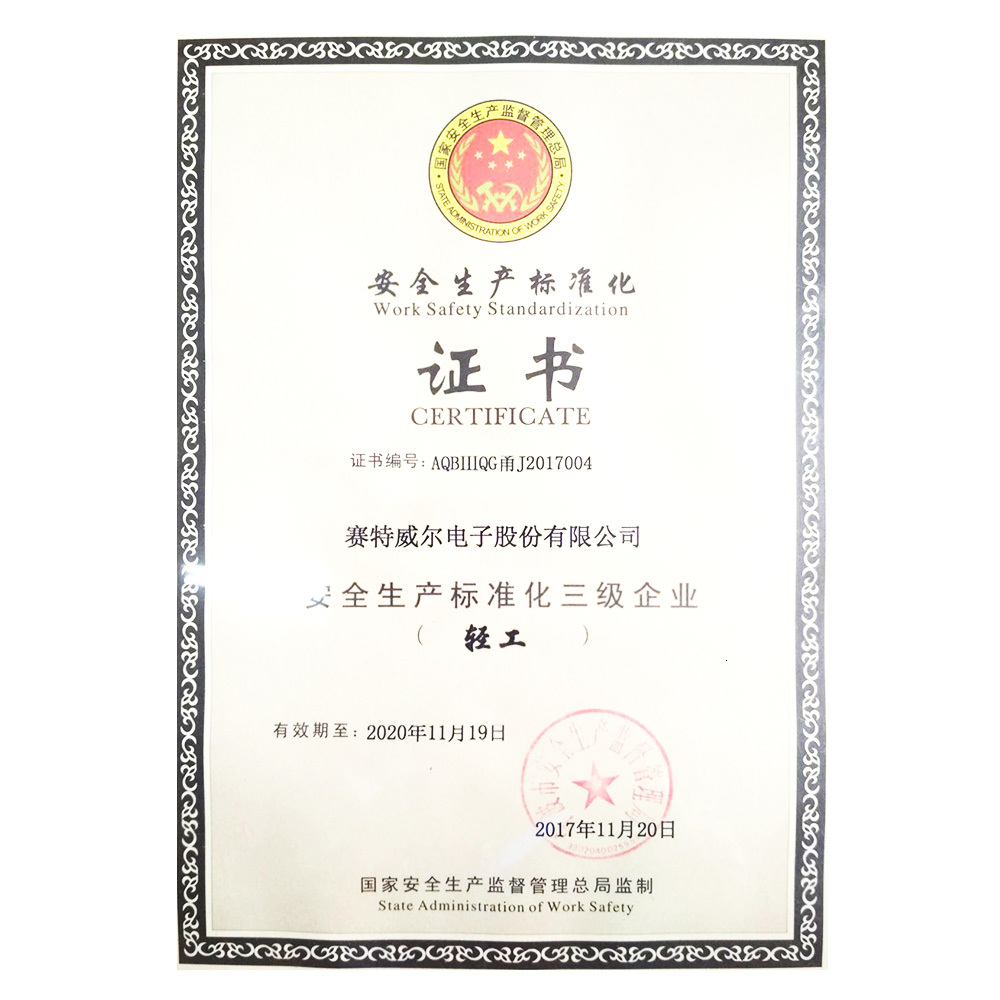 Third level enterprise for safety production standardization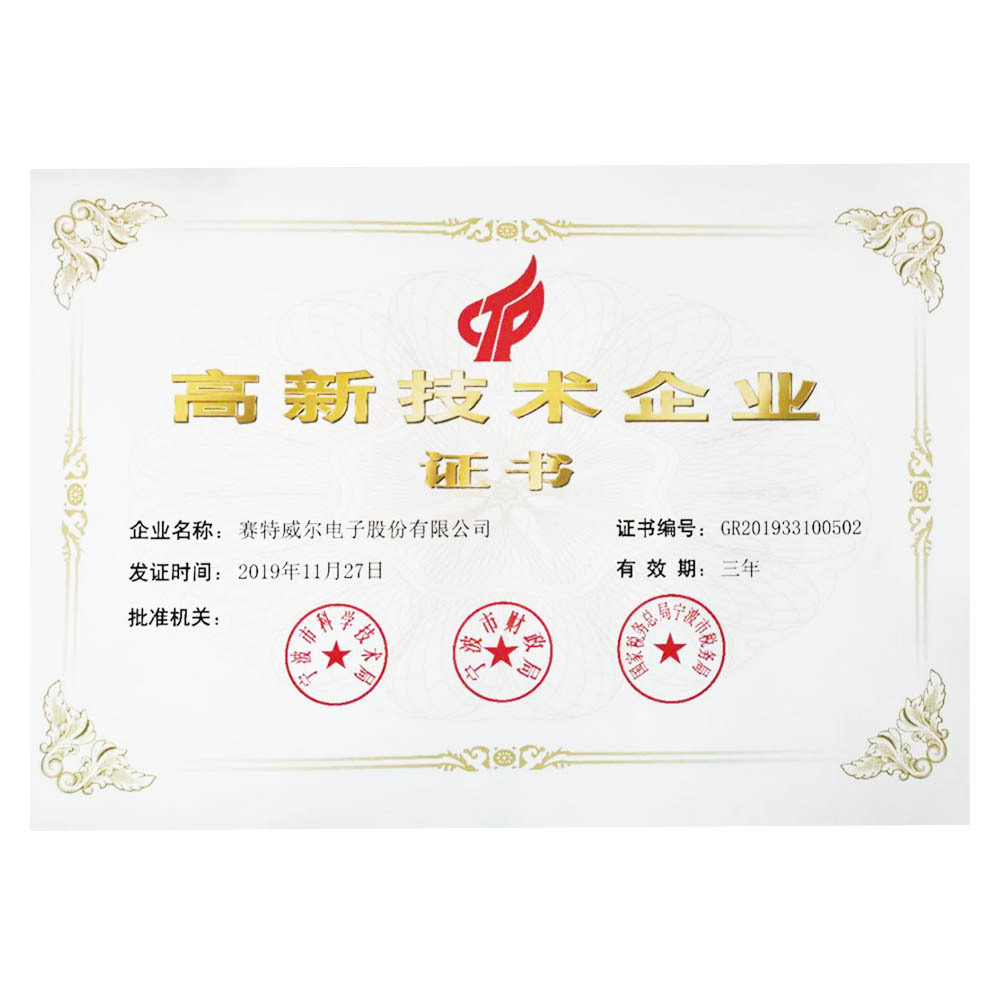 High and new technology enterprises
Individual cultivation enterprises in the manufacturing industry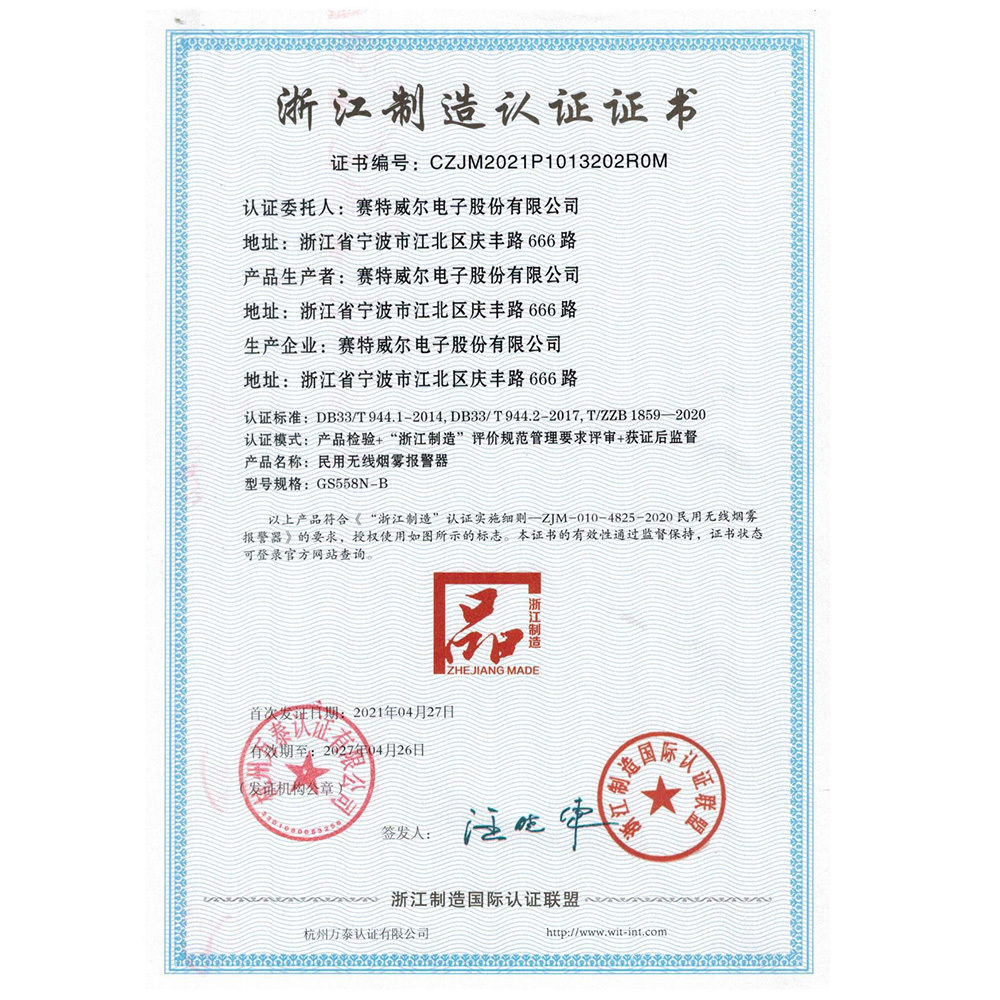 Zhejiang Manufacturing Product Label Certification
Global marketing service network
---
Siterwell delves deeply into the European market while also expanding into international markets such as North America and Australia; It covers five major regions in China, including East China, South China, Central China, Southwest China, and North China, with branches and offices respectively.
品牌强势全球合作
---
赛特威尔是中移物联、中国电信、移远通信、绿米等知名企业的安防产品战略合作伙伴;
在国外赛特威尔是开利、博世、西门子、霍尼韦尔、施耐德等知名品牌与零售终端的安防产品供应商。